2014: Matters of the Word
Barnard College's Twenty-Fourth Medieval and Renaissance Conference
Saturday, December 6, 2014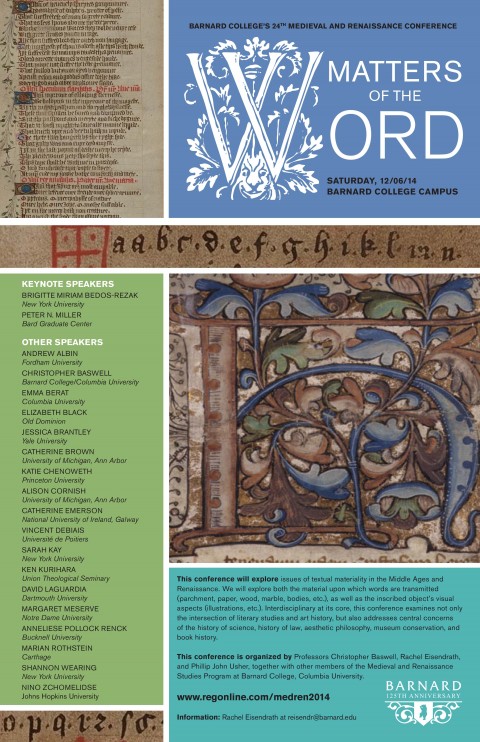 Matters of the Word will explore issues of textual materiality in the Middle Ages and Renaissance. We will consider both the material upon which words are transmitted (parchment, paper, wood, marble, bodies, etc.), as well as the inscribed object's visual aspects (illustrations, etc.). Interdisciplinary at its core, this conference examines not only the intersection of literary studies and art history, but also addresses central concerns of the history of science, history of law, aesthetic philosophy, museum conservation, and book history.
PRELIMINARY SCHEDULE
All sessions will be held in Barnard Hall, 3009 Broadway, New York, NY 10027
9:00-10:00 am
Conference Registration
Barnard Hall, First Floor
Continental Breakfast
Sulzberger Parlor
10:00-11:00 am
Welcome: Christopher Baswell, Rachel Eisendrath, Phillip Usher
Held Auditorium
Plenary: Brigitte Miriam Bedos-Rezak (NYU)
"Texture as Signature"
            Introduced by Christopher Baswell (Barnard and Columbia)
11:15-12:45
Bodily Texts
Chair: Laurie Postlewate (Barnard)
-Jessica Brantley (Yale), "Forms of Devotional Reading in the Pavement Hours"
-Vincent Debiais (Université de Poitiers), "Writing on Light"
-Emma Berat (Columbia), "Writing with the body: reproduction and textual corruption in the Man of Law's Tale"
Words in Public
Chair: Phillip Usher (NYU)
-Katie Chenoweth (Princeton), "Founding French: Print Orthography and the Public Sphere, 1529-1550"
-David LaGuardia (Dartmouth), ""Word Matters in the Public Space of 16th-Century Paris"
-Elizabeth Black (Old Dominion), "Naming and Shaming: Word and (Fecal) Matter"
12:45-2:00
Lunch
Sulzberger Parlor
2:00-3:00
Plenary: Peter N. Miller (Bard Graduate Center)
"The Material Culture of Cultural History: A Trip through Peiresc's Mediterranean World"
Held Auditorium
                     Introduced by Rachel Eisendrath (Barnard)
3:15-4:45
Writing on Buildings
Chair: Joel Kaye (Barnard)
-Christopher Baswell (Barnard and Columbia), "The Textual Chamber and the Trojan Scene in Chaucer's Book of the Duchess"
-Ken Kurihara (Union Theological Seminary), "Help God from Suffering: Hausinschriften and Community Lives in Early Modern German Cities"
-Margaret Meserve (Notre Dame), "Publicatio in valvis: the politics of promulgation in papal Rome, 1420-1520"
Boundaries of Print Culture
Chair: Anne Lake Prescott (Barnard)
-Catherine Emerson (National University of Ireland, Galway), "Words on the Page: Typography in Renaissance Medievalism"
-Anneliese Pollock Renck (Bucknell University), "'Revitalizing and Resituating an Original': Cicero, Benjamin, and Camille"
-Marian Rothstein (Carthage), "The Persistence of the Manuscript"
5:00-6:30
Matters of Sound
Chair: Susan Leslie Boynton (Columbia)
-Sarah Kay (NYU), "Sound and the Word in Troubadour Lyric: How Human Is Song?"
-Alison Cornish (University of Michigan, Ann Arbor), "Words and Blood: Music and the Remediation of Meaning in Dante"
-Andrew Albin (Fordham, Lincoln Center), "Sound Matters: Singing the Officium of Richard Rolle of Hampole"
Marks of Authority
Chair: Jesus Rodriguez-Velasco (Columbia)
-Catherine Brown (University of Michigan, Ann Arbor), "Tactile Argument and the Sign of the Hand"
-Shannon Wearing (NYU), "Materializing Women in Iberian Illuminated Cartularies"
-Nino Zchomelidse (Johns Hopkins), "Authenticity and Illusion:
The Marriage Charter of Otto II and Theophanu"
6:30-7:30
Reception
Sulzberger Parlor
QUESTIONS?
Please contact Rachel Eisendrath (reisendr@barnard.edu)