Beyond Borders: Mutual Imaginings of Europe & the Middle East (800-1700)
SATURDAY, DECEMBER 3, 2016
BARNARD HALL
CONFERENCE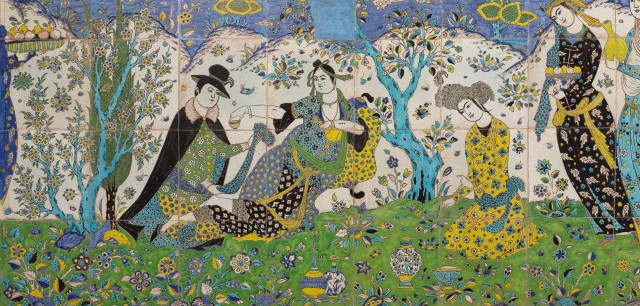 The 25th biennial conference of the Barnard Medieval & Renaissance Studies Program brings together scholars whose work challenges the stark border between Europe and the Middle East during the long period between 800-1700. Rather than thinking of these areas in isolation, this interdisciplinary conference reveals the depth of their mutual influence, exploring how trade, war, migration, and the exchange of ideas connected East and West during their formative periods. Distant worlds were not only objects of aggression, but also, inextricably, of fantasy and longing, as Jewish, Muslim, and Christian thinkers looked to each other to understand their own cultural histories and to imagine their futures. Plenary speakers are Nabil Matar of the University of Minnesota and Nancy Bisaha of Vassar College.
PROGRAM
Saturday, December 3, 2016
Barnard Hall 
8-9     
Registration and Breakfast 
9-10 
Plenary I
Nancy Bisaha, Vassar College
"From Medieval Christendom to Renaissance Europe: The Shifting Place of Muslims in the Pre-Modern World"
10:15-11:45      
Session I : The Politics of the Border
Cristelle Baskins, Tufts University
« Habsburgs and Hafsids on the Border of Christendom »
Enass Khansa, Harvard University
« Negotiating Legitimacy in the Andalusian Caliphate & the Catholic Kingdoms of Iberia »
K. A. Tuley, University of Minnesota, Twin Cities
« An Ensemble Performance : Sovereignty in the Eastern Mediterranean Theater in the Thirteenth Century »
Sabahat Adil, University of Colorado-Boulder
« Locating al-Andalus, or Where Does al-Andalus Begin and End and Why Does it Matter ? »
12-1   
Lunch
1-2 
Plenary II
Nabil Matar, University of Minnesota
"The Protestant Reformation and its aftermath in early modern Arabic sources."
2:15-3:45        
Session II : Trade and Artistic Exchange 
Heather Madar, Humboldt State University
« The Sultan's Face Looks East and West : Sixteenth-Century European and Ottoman Sultan Portraiture »
Antje Bosselmann-Ruickbie, University of Mainz
« Byzantine Ornaments : Cultural Transfer in the Thirteenth to Fifteenth Centuries »
Winston Black, Assumption College
« Perversion and Perfection in the Orient : Twelfth-Century European Fantasies of Eastern Spices »
4-5:30    
Session III : The Literature of Religious Interchange
Hossein Kamaly, Barnard College
« The Christian Reformation : From a Shī'a Catholic to an Augustininan Prior Turned Muslim »
John Paul Hampstead and Amrita Dhar,  University of Michigan
« From Marrakesh to the Tower of London : Constructing a Jesuit Martyrology, 1580-82 »
Islam Issa, Birmingham City University
« Dialectical Interchanges : Milton, the English Renaissance, and the Arab Nahdah »
5:30-6:30
Concluding Discussion
6:30-7:30
Wine and Cheese Reception
 
Questions? 
Contact Rachel Eisendrath, reisendr@barnard.edu