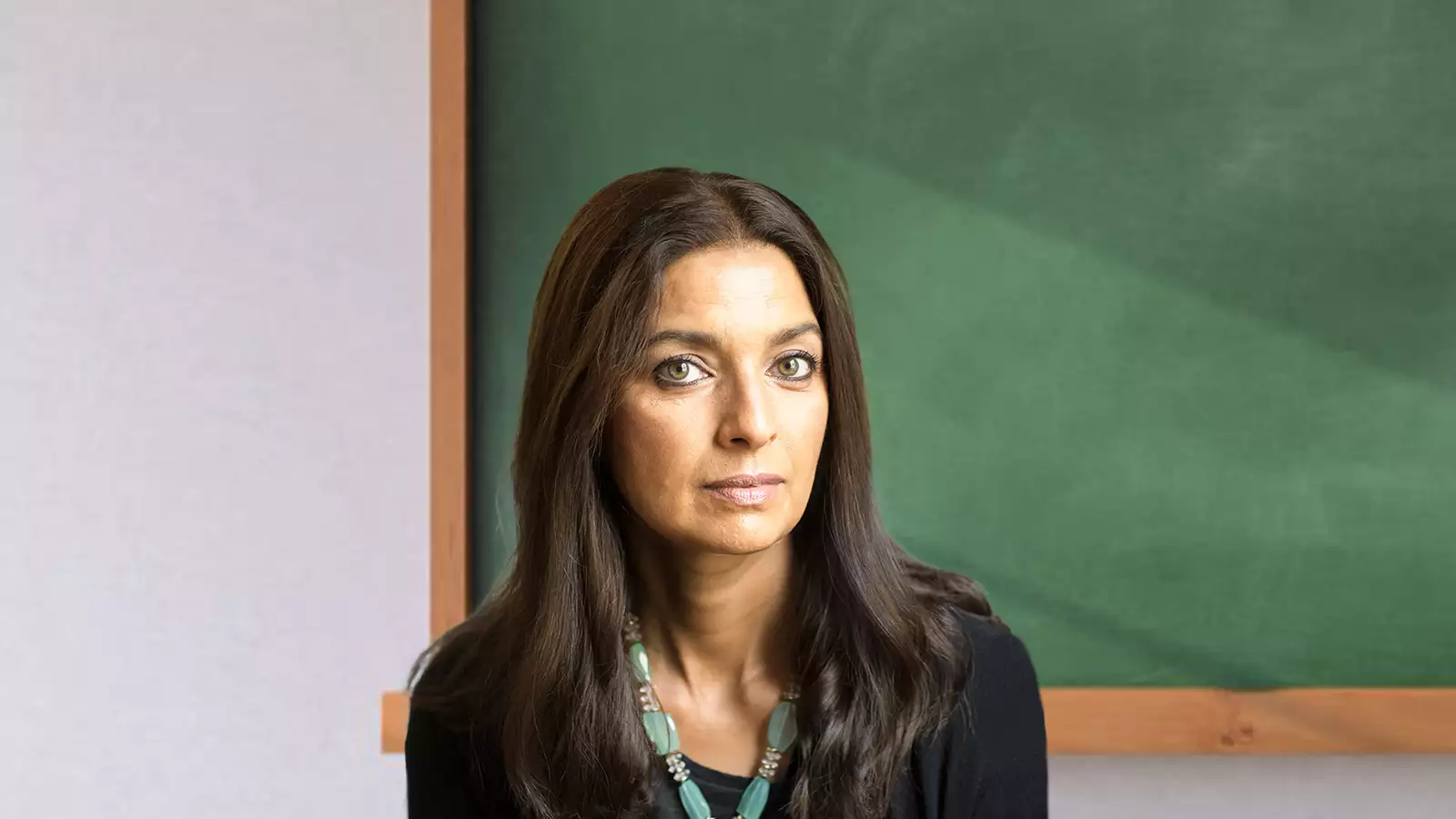 NEW YORK, April 11, 2022 — Jhumpa Lahiri '89 is inarguably one of the most critically acclaimed authors of the 21st century, and Barnard College is thrilled to welcome her back — three decades after she was a student here — as the Millicent C. McIntosh Professor of English and Director of Creative Writing. She will also hold an affiliated status in the Comparative Literature and Translation Studies Department and within the Department of Italian. Lahiri will join Barnard in July 2022 from Princeton University, where she has been a professor of creative writing at the Lewis Center for the Arts since 2015 and the director of the Creative Writing Program since 2019. She will also join Columbia's Italian Academy for Advanced Studies in America as a senior fellow.
In a homecoming that is appropriately serendipitous, Lahiri will assume the position most recently held by fellow alumna and prize-winning author Mary Gordon '71 (Gordon retired in 2020), who joined Barnard's faculty in 1988 and spoke at Lahiri's graduation the following year. "I am honored to take her place and to continue the good work she did [teaching] creative writing," said Lahiri. "Mary Gordon mentored countless young writers at Barnard, while also continuing to grow as a writer herself. I can only hope to follow her example." 
What's more, Lahiri will inherit the Barnard Hall office of retired English professor Maire Jaanus, who was her first-year adviser.
"The College is deeply honored that such a distinguished and respected alumna has chosen Barnard as her intellectual home," said President Sian Leah Beilock. "I've followed her work since long before I began leading the College and have thought often about the conversation we had a couple years ago, where she described Barnard as a wonderful place for exploration — a place where students feel comfortable taking risks as they decide how they can leave their mark on the world." 
When Lahiri enrolled at Barnard in 1985, majoring in English with a focus on Medieval and Renaissance Literature, she said she did so to satisfy three goals: to get a world-class education, to be in New York City, and "to learn in an environment that has always valued, promoted, and supported the intellectual development of women." Now she will return to the campus that nurtured her and back to the department where she first honed her skills as a reader and writer. 
Of this exciting news, Peter G. Platt, Ann Whitney Olin Professor and Chair of English, said, "We are thrilled that Jhumpa Lahiri is returning to Barnard as a member of the English Department faculty. Lahiri is part of a long tradition of important verbal artists hailing from the College, including Zora Neale Hurston '28, Erica Jong '63, Mary Gordon '71, Anna Quindlen '74, Suzanne Vega '81, and Edwidge Danticat '90. She will enrich the College by teaching courses in English, European, and global literature; creative writing; and the art of translation. Her contributions to current and prospective students, as well as to Barnard as a whole, will be immeasurable."
In addition to receiving the Pulitzer Prize for her debut collection Interpreter of Maladies, the novelist and short story writer has won numerous other awards, including the PEN/Malamud Award for Excellence in the Short Story, the Addison Metcalf Award from the American Academy of Arts and Letters, the Vallombrosa Von Rezzori Prize, the Asian American Literary Award, the DCS Prize for South Asian Literature, the Frank O'Connor International Short Story Award, the PEN/Hemingway Award, a Guggenheim Fellowship, and a National Endowment for the Arts Fellowship. She was a finalist for the Man Booker Prize and twice a finalist for the National Book Award, once for fiction and once as a translator. In 2014, she was awarded a National Humanities Medal by President Barack Obama.
Take a journey through Lahiri's career timeline below: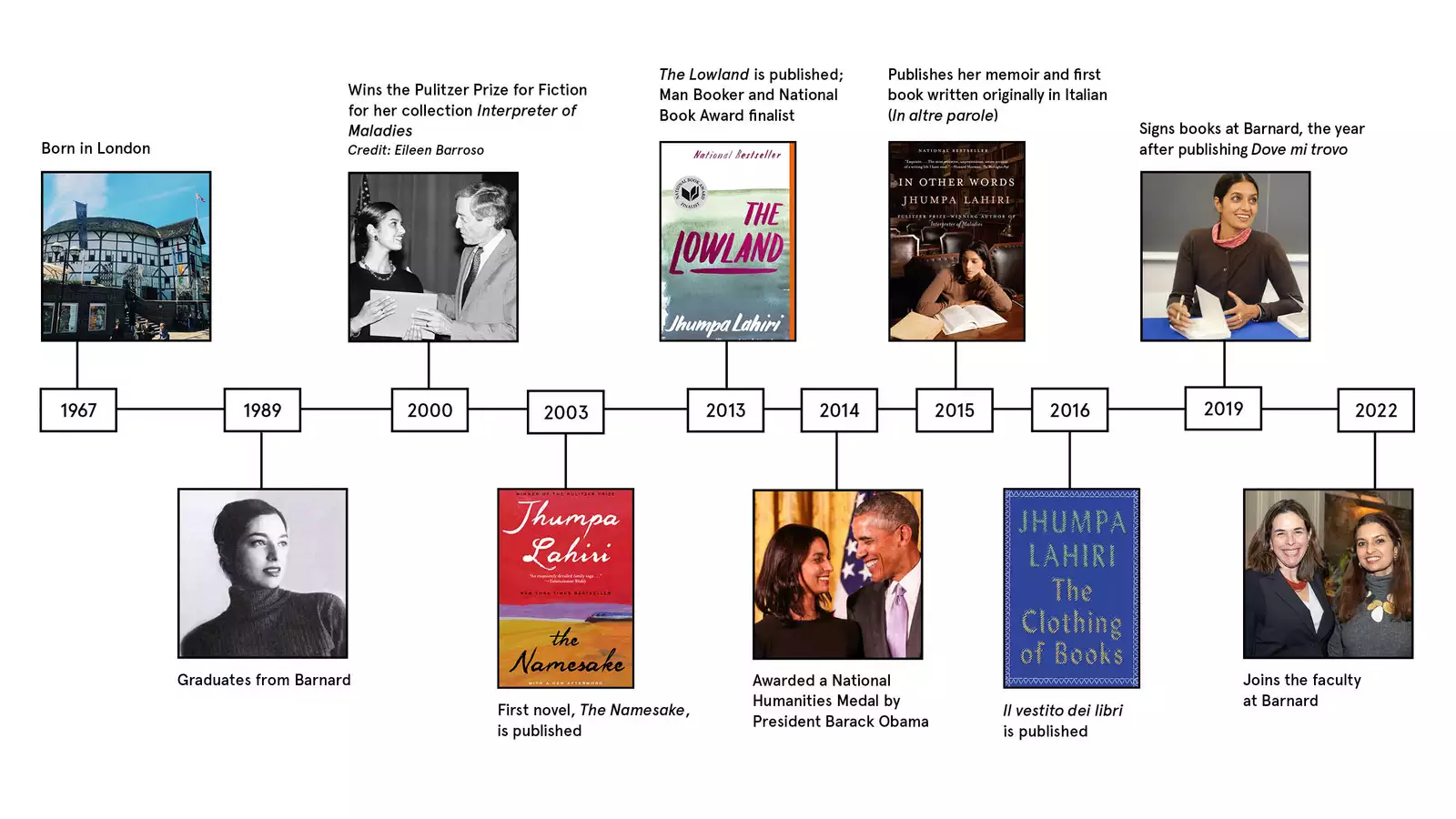 I have never ceased to be a student, and there is no better place for a woman to be a student than at Barnard College.
Lahiri's honest prose about Indian American families and her prestige as a wordsmith has inspired many students to attend Barnard. One student called her a role model who helped to assuage any cultural anxiety "about coexisting as Bengali and American." Another credited Lahiri for validating a world of possibilities, saying, "I had never seen a brown woman write about what it was like to be an immigrant or reach for a career in literature and writing. And I had never had someone affirm my desires to chase my dreams the way she [did]." 
This passing of the inspirational torch was something Lahiri learned as a student within Barnard's English Department and alongside various mentors. First, there was Timea K. Széll '75, who "taught me how to closely read a text and set the bar high from the very start; she directed my first senior thesis on Chaucer," Lahiri said. Next was her second senior thesis, on Edmund Spenser, written for Anne Prescott, whom Lahiri called "another guiding light, whose passion and knowledge for Renaissance literature has remained a lasting influence in my life." Finally, as a Latin minor, she studied ancient Greek with the late Lydia Lenaghan '54 three mornings a week and admitted that she still draws "on the eclectic array of literary and philosophical texts I encountered and studied in Barry Ulanov's Medieval and Renaissance Colloquium."
For Széll, an alumna who has been a Barnard faculty member since 1979, the admiration is mutual. Széll remembered the student Lahiri as "a brilliant close reader and writer of rich critical prose with humility and intellectual heft." So, less than a decade later, after stumbling upon Lahiri's 1998 New Yorker story "A Temporary Matter," Széll wasn't surprised to see her former mentee's byline. "As the narrative unfolded inexorably, terribly, gorgeously, I found my heart beat faster. Stunned by the moral complexity of the story, I leafed back the pages to find it was my former interlocutor and student Jhumpa Lahiri," Széll said. "In a fraction of a second, it all made perfect sense to me, and my heart jumped for joy and admiration for her." 
Since then, Széll, the entire Barnard community, and bibliophiles everywhere have watched Lahiri's literary accomplishments and  intellectual interests expand — from winning the Pulitzer Prize in 2000 and making her Italian literary debut with In Altre Parole (In Other Words) in 2016 to her 2021 novel, Whereabouts, originally published in Italian as Dove mi trovo and then self-translated into English. Her latest book, Translating Myself and Others, will be published in May 2022.
After graduating from Barnard, the author earned a series of degrees from Boston University: an M.A. in English and another in comparative studies in literature and the arts, an M.A. in creative writing, and a Ph.D. in Renaissance studies.
"Jhumpa Lahiri is an extraordinary and accomplished writer and scholar, and we are honored to welcome her back to join our faculty and lead the creative writing program," Provost Linda A. Bell said. "We cannot wait to see what she will accomplish." 
Lahiri's approach to language as an interdisciplinary study is a gift students will receive, as she plans to teach courses in creative writing, translation, Italian, and comparative literature.
"Whether the call to write takes place at Barnard or emerges years later, the important thing is to plant the seeds and encourage young writers to believe in their voices," said Lahiri of her goal for the creative writing program. "It is crucial for students to experiment, to take risks, and to be mentored by working writers. I hope courses in creative writing will appeal to students from across the College, regardless of their majors." 
 
Saskia Hamilton — acclaimed poet, Vice Provost, professor of English, and director of Women Poets at Barnard — agreed. "With her profound subtlety, interiority, and erudition, her spirited engagement with classicism and experimentation, and her seriousness as an artist, Jhumpa Lahiri is a remarkable model for our students," said Hamilton. "Her presence on campus will deepen and enrich Barnard's long commitment to the study and practice of writing of the highest order." 
About joining the College's faculty, Lahiri said, "I am both honored and overjoyed to return to Barnard at this stage in my life, to work closely with a brilliant, close-knit faculty and with such curious, dynamic, and diverse students. I have never ceased to be a student, and there is no better place for a woman to be a student than at Barnard College."
About Barnard College
Barnard College provides a singular educational experience, as a world-renowned college focused on excellence across the arts and sciences, with all the academic resources of Columbia University and the City of New York as an extended classroom. Founded in 1889, Barnard was one of the few colleges in the nation where women could receive the same rigorous and challenging education available to men. For more information on Barnard College, contact Barnard Media Relations at 212-854-2037 or mediarelations@barnard.edu. To learn more, follow Barnard on social media on Instagram, Twitter, and Facebook.